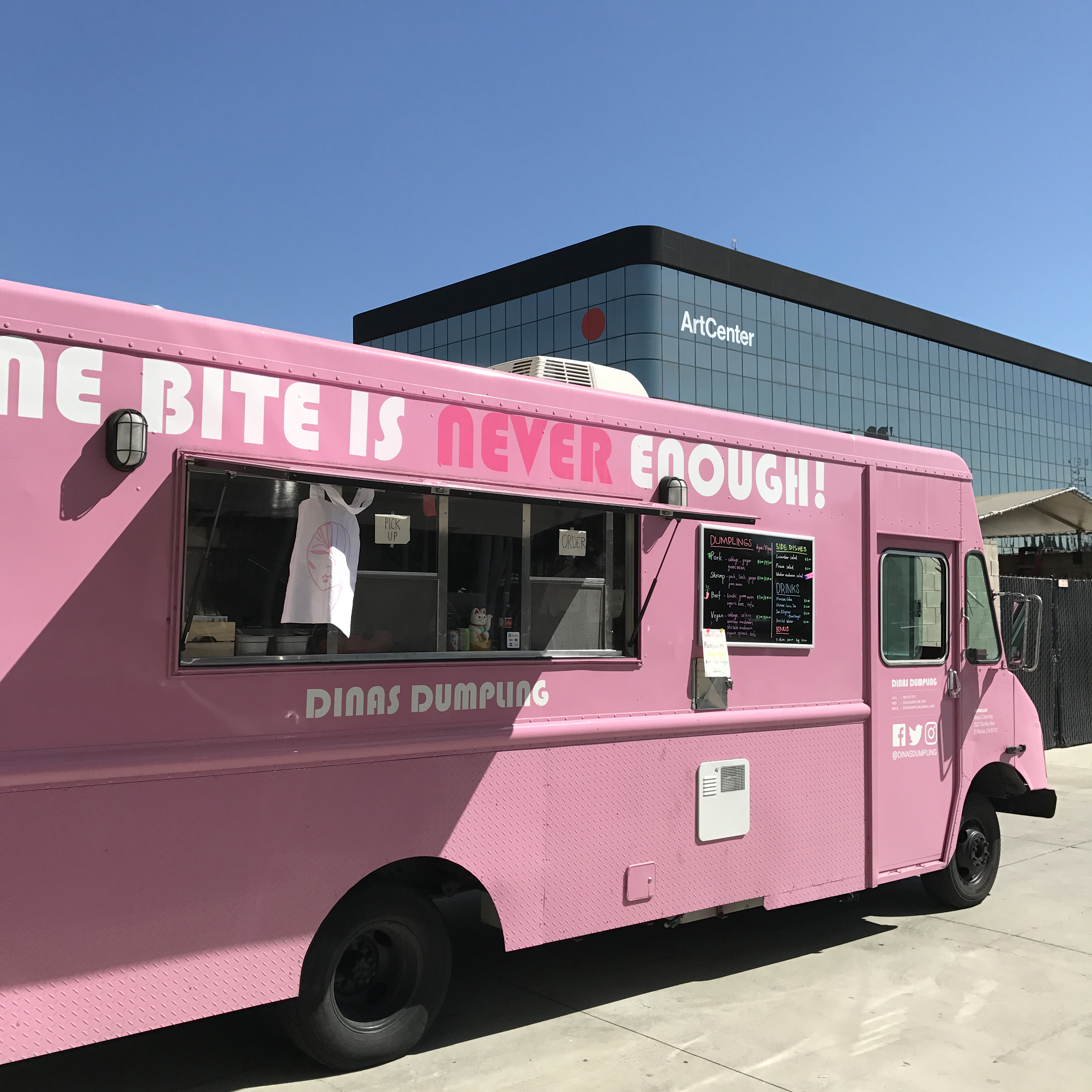 Food Truck Dina's Dumpling, the product of a partnership between ArtCenter alum Eric David Wallace and his wife Dina, will be parked in the South parking lot at the 950 Building, South Campus on Wednesdays from 11:30 a.m.–2:30 p.m.
After running a small fashion clothing line for about five years, Eric enrolled in ArtCenter searching for an education in branding, advertising and marketing. He was a Graphic Design major but also took Environmental Design and Film courses during his approximately three years and a half years at the College. After ArtCenter, he worked at the Let There Be Dragons division of TBWA\Chiat\Day in Los Angeles, that was literally a studio on wheels. It was there that he learned how much can be achieved with a truly mobile work station.
He left the advertising world and worked with some smaller film production companies and design firms. At a low point in his life, he met Dina, who he describes as "a ray of sunshine." Dina grew up in a small town of Rugao China, with her grandmother cooking and making dumplings by hand every day. After they were married, she mentioned she wanted to open a dumpling restaurant. As Eric recalled, "[a]t the time we couldn't afford it, so I said, 'how about a food truck instead?' She agreed and we were off to the races."
As creative director of Dina's Dumpling, Eric decided to make the truck pink, in reference to a jump suit Dina was wearing when he first met her. He says it is, "bright, happy, approachable, warm hearted and fun. All great qualities for a brand."
In addition to creative director, Eric wears the hats of designer, head of marketing, advertising director, driver, order-taker, and point-of-contact for any and all events. Dina makes the amazing dumplings.
Dina's Dumpling aims to bring the traditional handmade authentic Chinese food to Americans in a modern and approachable way. In addition to the traditional pork dumplings, Dina's offers beef, vegan and shrimp dumplings. They also offer unique side dishes and special items that change daily.
How did ArtCenter help create this tasty business? According to Eric, "ArtCenter really pushes you to have a rigorous work ethic, thoughtful design, to never give up and to have great presentation skills with a professional demeanor. All of which you need to be successful in any type of business."
Come check out Dina on campus on Wednesdays at lunchtime in the 950 Building parking lot and be sure to sample Eric's favorite item, Pork Dumplings + Cucumber Salad with a Mexican Coke.