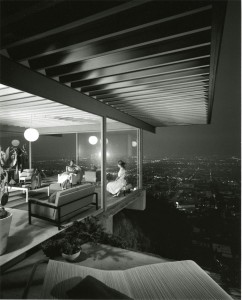 Grassroots think tank One Community, in association with the Julius Shulman Institute at Woodbury University, will present a screening of the film Visual Acoustics: The Modernism of Julius Shulman at Hillside Campus Sunday. The documentary will be followed by a moderated discussion—Does Architecture Create Great Communities or Do Communities Create Great Architecture?—featuring architectural historian Barbara Lamprecht and artist Michael Stern.
Narrated by Dustin Hoffman, the film explores the monumental career of architectural photographer Shulman, who died last year at the age of 99. Shulman combined the organic with the synthetic, capturing the essence of urban design and nature in his photographs.
The event is free and open to the public. RSVP at onecommunitythinktank.com or onecommunitythinktank@gmail.com.
Screening: Visual Acoustics: The Modernism of Julius Shulman
Sunday February 28, 4 pm
Hillside Campus
Ahmanson Auditorium
(Pictured: Case Study House No. 22, Julius Shulman)