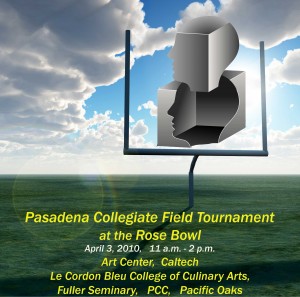 Who said creatives can't be athletes, too?
The Rose Bowl will be a colorful and competitive place on Saturday as teams from area colleges compete for the first Pasadena Collegiate Field Tournament Cup. Art Center, CalTech, Pasadena City College (PCC), Fuller Seminary, Le Cordon Bleu and Pacific Oaks College will battle it out for the coveted title. You certainly will want to be there to witness Art Center crush the competition!
Everyone is invited for a day of fun, games and collegiality. Creative challenges such as monster croquet (think giant croquet balls and balloon arches), Frisbee toss, blindfolded flag race and cheeseburger challenge will round out a day that will be as much about bonding among Pasadena's world-renowned schools as it is about competition.
Festivities will last from 11 am to 2 pm, and are free and open to everyone. Go Orange Dots!
Pasadena Collegiate Field Tournament Cup
Saturday, April 3, 11 am–2 pm
Rose Bowl