Film Department instructor Dan Perri will host director, producer and writer Richard Rush today for a lively Q&A session as part of the Distinguished Filmmakers Series.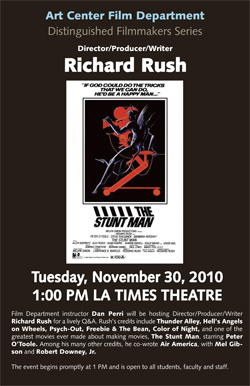 Rush's credits include Thunder Alley, Hell's Angels on Wheels, Psych-Out, Freebie & The Bean, Color of Night, and one of the greatest movies ever made about making movies: The Stunt Man starring Peter O'Toole.
The event begins promptly at 1 p.m. and is open to all Art Center students, faculty and staff.
Distinguished Filmmakers Series:
Richard Rush
Tuesday, November 30, 1 p.m.
L.A. Times Media Center