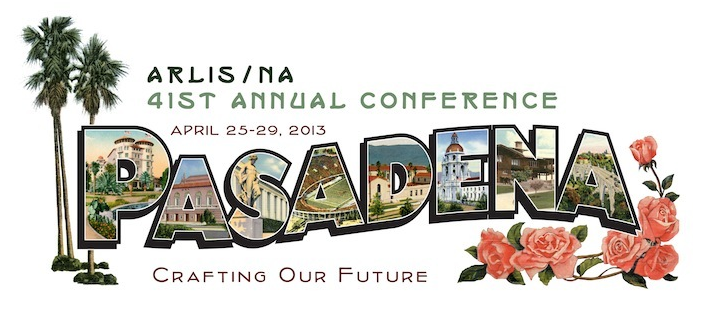 Pasadena plays host to the Art Libraries Society of North America (ARLIS/NA) 41st annual meeting April 25–29, 2013, with speakers and attendees from the United States, Canada, Mexico, Latin America, Europe and beyond. The conference takes place at the Pasadena Convention Center, with additional programs and activities scheduled at Art Center College of Design.
Art Center's Betsy Galloway hosts a meeting of fellow library directors from Association of Independent Colleges of Art and Design (AICAD) schools. Archetype Press's Gloria Kondrup conducts a hands-on workshop in letterpress broadside printing. And Art Center Product and Entertainment Design instructor Justine Limpus Parish leads a tour of the Los Angeles Fashion District.
"We're really excited about introducing librarians from all over the country and around the world to Art Center," says Galloway, "and we look forward to participating in many of these activities ourselves." Though she has worked with books her entire professional life, Galloway has never been on the "making" side. "It will be a thrill to have the opportunity, in Gloria Kondrup's workshop, to touch the type and the presses for the first time," she says.
Members of Galloway's staff are also actively engaged with the conference, with a particular interest in newer areas of collection development. Catalog Librarian Gina Solares presents a poster session on zines and mini comics, a collection she and her colleagues have been developing at Art Center. Meanwhile the Art and Design School Division of ARLIS is sponsoring a session on video games that Lucas Kelly, a library assistant at Art Center for more than 10 years, will attend. Kelly is developing the library's new video game collection and is eager to hear more ideas on this topic.
In addition to the AICAD library directors lunch in the Library on Saturday, two ARLIS workshops take place in the Library Friday and Monday.
The conference theme, "Crafting our Future," is inspired by Pasadena's renowned Arts and Crafts heritage and emphasizes the importance of building on the past while actively shaping the future of art librarianship. Plenary sessions will examine important new documentation of contemporary art led by Southern California institutions. Other topics being explored include digital humanities, data visualization, open source technologies, social media, information literacy assessment and Resource Description and Access (RDA).
Conference events and activities hosted or led by Art Center:
Fri., April 26
Omeka: Creating and Sharing Collections With an Open Source Web Publishing Tool, led by Jason Miller, director, Visual Resources Center, College of Environmental Design, University of California, Berkeley
Tour of Downtown Los Angeles Fashion District, led by Art Center instructor Justine Limpus Parish, sponsored by the Fashion, Textile and Costume special interest group of ARLIS/NA
Sat., April 27
AICAD Library Directors Meeting and Lunch
Mon., April 29
NACO and RDA: Building Authority Records with the New Cataloging Rules, led by Sherman Clarke, freelance and itinerant art cataloger
Hands-on Letterpress Broadside Printing Workshop at Archetype Press, led by Gloria Kondrup, professor and director, Archetype Press, Art Center College of Design
—Sylvia Sukop
Related:
Art Center Receives NEH Grant to Preserve Industrial Design History
In Search of Textured Stories: An Illustration Student Explores Children's Books by African-American Illustrators