The following letter pays tribute to Art Center alum Saeri Dobson's tireless and selfless work on behalf of Bangladeshi girls who have been rescued from brothels. Dobson (MFA 00 NEWM), whose ethically-minded creative practice is embedded right in her company name: By SaeRi: Design + Humanity.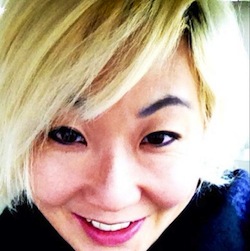 "I founded By SaeRi, Inc. to tell the stories of amazing human lives through my design," says Dobson, who produces several lines of handmade bags and wallets ranging from bright and funky to chic and understated. She donates 10% of her profits to Speak Up for the Poor, a non-profit supporting displaced Bangladeshi girls and women. "Each By SaeRi bag is one of a kind, designed and made entirely in the USA. I handpick all the materials and oversee the production process."
This letter, by the founder of Speak Up for the Poor, offers a snapshot of social impact design in action, exemplifying the vast potential for designers to change the world by bringing their social conscience to bear on their creative practice. We salute Saeri's commitment to her cause, not to mention the elegant leather craftsmanship she brought to the entirely covetable Project Hope line of tote bags.

I am writing to express my organization's support for the work of By SaeRi, Inc., a business which has generously supported our work for several years. Speak Up for the Poor, a 501(c)(3) non-profit organization, serves girls in poverty in Bangladesh. We remove girls from brothels and fund a home for rescued girls; we run a large education program keeping girls-at-risk in school and out of child marriage and other forms of abuse and exploitation; and we do legal casework and advocacy for girls in poverty who have been abused.
Speak Up relies on the generous support of individuals and businesses. By SaeRi, Inc. has been a faithful financial supporter of our work for several years, giving generously since 2011 to help fund several of our projects in Bangladesh.
Starting in 2011, By SaeRi became a funder of our work at the Alingon Home, a place for girls removed from brothels. In Bangladesh many young girls who are born to mothers working in brothels are themselves destined for forced prostitution as minors, and By SaeRi's generosity helped fund our important work to remove and rehabilitate girls at the Alingon Home.
Similarly, By SaeRi's generous financial support towards our Girls Education Program in 2012 and 2013 helped Speak Up build four Learning Centers in impoverished villages in southwestern Bangladesh, school rooms where hundreds of girls in our program receive academic support and mentoring to rise out of poverty and avoid the pitfalls of poverty. Several of Saeri Cho's students have also contributed generously to our general fund, further catalyzing our efforts to serve girls in poverty in Bangladesh.
Speak Up is thankful to By SaeRi, and in particular, to the founder Ms. Saeri Cho Dobson for her hard work and generosity in supporting our work. We enthusiastically support their continued business expansion. We encourage you to extend every courtesy possible to enable By SaeRi to grow in its important mission as a socially responsible business.
Please contact me with any questions.
Sincerely, Troy Anderson
Founder and International Director, Speak Up