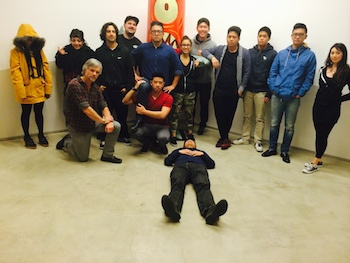 The following post, originally featured on InnovatePasadena.org, offers a window into the process and results of the creative partnerships Art Center fosters with the corporate community. These alliances have always been fundamental to the College's educational philosophy, grounded in an empirical hands-on to empowering students to transform their ideas into professional quality works of creative ingenuity.
The Art Center alumni community has been instrumental in sustaining this tradition. In this case, Eric Ayzenberg (Adv), founder of Pasadena's Ayzenberg Group, lead that charge, enabling current Advertising students to experience the inner workings of a full-service agency's approach to a social media campaign.

"We learn by teaching."
- Latin Proverb
Pasadena business leaders value the world-class academic institutions in town as a great source of talent. And in return, the schools appreciate the career opportunities for students in their own backyard. But one new partnership this year took a win/win situation to another level.
This spring, Pasadena-based Ayzenberg Group finished its inaugural semester class in partnership with Art Center College of Design. Part of an established advertising curriculum, the class gave an introduction to social media through the lens of a full-service advertising agency.
Art Center has long been a talent recruiting source for Ayzenberg, so this new facet of partnership was a welcome extension. "Partnering with Ayzenberg on Introduction to Social Media has been fantastic for our program – they're bringing our students the type of real-life, high-level experience that they could never get anywhere else," said Gary Goldsmith, Chairman of Art Center's Advertising department.
Also located in Pasadena, Art Center is an 85-year old institution with an international reputation and an impressive roll call of highly esteemed alumni. Notable creators including Ansel Adams, Michael Bay, Chris Bangle, and Zack Snyder once called Art Center home. "We really enjoyed giving these students a look behind the curtain of our business – we'll be smiling when we hear about the brilliant careers they build from here," said agency founder Eric Ayzenberg.
The class embodied the idea that today's advertising needs to be social, regardless of its distribution channel. Leaders across agency disciplines were involved in the instruction, offering first-hand knowledge and front-line expertise about the impact social media has had in all communication forms.
Professional artists, copywriters, analysts, and strategists from the agency covered focused topics from one week to the next, each positioned as an integral part of an overall campaign. To foster integration and critical thinking on a campaign scale, students were challenged with a final group project to build a socially driven campaign of their own.
"I really liked how the structure of the class was built around the final project presentation; it was good to have a single goal to focus on, and it was great how lessons built around this single goal put everything into practical context," said Abe Chuang, an advertising major at Art Center and a student in the class. "From day one, we told our students that their final project should apply each week's concepts – which made for great engagement with our guest instructors," said Creative Director Stu Pope, who, along with VP of Strategy and Client Service Julian Hollingshead, led the class on a weekly basis.
For the final project, student groups played the role of agencies and presented comprehensive social media pitches to a simulated client review board for brands that included Netflix, Buffalo Wild Wings, and The L.A. Department of Recreation & Parks. Students shared original music, videos, imagery, copy and creative plans to bring their presentations to life – and the atmosphere simulated the scrutiny and tension of a real agency pitch.
Judging by resoundingly positive outcome, the Ayzenberg-Art Center partnership will continue to flourish in coming semesters.
Julian Hollingshead is the VP Strategy and Client Service, Ayzenberg Group