TEDxYouth served up generous helpings of Brain Food at California Institute of Technology in Pasadena. Among the cooks in the kitchen: Art Center Trustee Bill Gross; Professor and Director of Sustainability Initiatives Heidrun Mumper-Drumm; and Product Design alumna Mariana Prieto, who completed the Designmatters Concentration in Art and Design for Social Impact.
The day-long event took place January 19, 2013, and 8-minute videos of the talks were recently made available online. If you have an appetite for fresh ideas, watch!
A Perfect Storm of Opportunity: Bill Gross at TEDxYouth@Caltech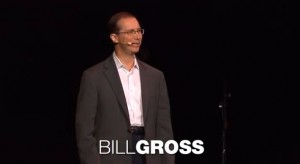 Bill Gross is a lifelong entrepreneur who has been starting companies since he was 12 years old. He has personally started more than 100 companies in the last 42 years, of which more than 40 have gone public or been acquired. Gross is the Founder and CEO of Idealab, a "company factory" based in Pasadena, which he started in 1996. Gross is credited with starting the first online business directory company with CitySearch, the first online car retailed with CarsDirect, the first paid search engine with Goto.com/Overture, and the longest-running technology incubator where he has been the creator of all these companies. A graduate of the California Institute of Technology, Gross currently serves on its Board of Trustees. He also serves on the Board of the Art Center College of Design, and more than 20 technology companies in California.