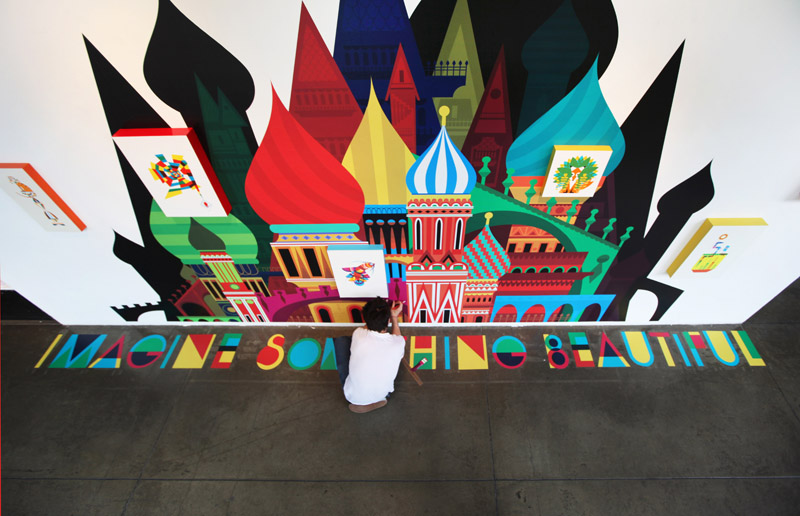 Last year we told you about the amazing collaboration between Venice-based Blik and Art Center Illustration alumnus Patrick Hruby.
We're excited to announce that Blik has just launched a new wall graphic designed by Hruby. The graphic, Imaginary Castle, is the same design that Hruby created for his final project at Art Center, on display in the Student Gallery last year.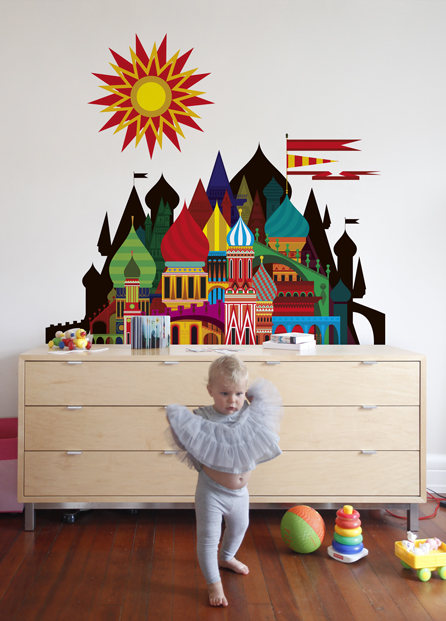 Hruby first paired up with Blik in 2010 when he was a graduating student and Art Center's Spring 2010 valedictorian. Earlier in the year, Blik had mentored Hruby's fellow Art Center peers in the Advanced Illustration Studio class. 

This serendipitous connection led Hruby to turn to Blik to manufacture his final project, Imagine Something Beautiful.
Each year, the Art Center gives the wall in the main school entranceway to one star student to display their final project during Graduation Show. Hruby's project was selected for the space in spring 2010, and he approached Blik to help execute his vision and overcome the challenge of placing the design on the school's grad wall. The transformation of Hruby's illustration into a wall graphic was easy as Imaginary Castle was always conceived as a wall decal.
"I wanted to create a magical place that was large enough to make you feel as if you were there," Hruby says. "Imaginary Castle pays respects to my Eastern European heritage and grandparents. I've always been fascinated with that design aesthetic and wanted to try my hand at it."
The punchy colors add dimension to the large-scale design, making the decal "pop-off" the wall and appeal to children's vivid imaginations and fairy tale sensibilities.
"We were captivated by Patrick's style," says Blik co-founder Scott Flora. "Imaginary Castle is a vibrant cityscape reminiscent of Mary Blair's It's a Small World. With its interesting shapes and modern aesthetic, we envision Imaginary Castle transporting kids into a color-filled playground. Keep your eye on Patrick, he is definitely an illustrator to watch." 

Imaginary Castle is available in two sizes: a 36-inch wide wall decal and a 6-foot wide wall decal at Blik.