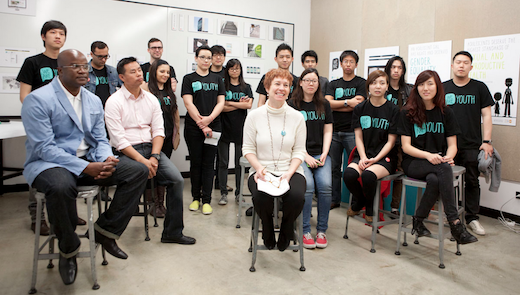 This past spring, students in a Graphic Design Department-hosted Designmatters studio were challenged to create an integrated campaign for the United Nations Population Fund (UNFPA) to advocate for young people's rights to health, education, protection, respect and participation in decision-making for their future.
Not only did the students meet that challenge with aplomb with "We Are Youth," their campaign which premiered this past summer at Rio+20, the United Nations Conference on Sustainable Development in Rio de Janeiro, but now their work has also won a top honor at the annual Spark Design Awards.
The "We Are Youth" campaign—designed by students Pamela Abolian, Brett Beynon, Kenneth Chan, Andrew Chen, Lisa Chen, Ka Kit Cheong, Daniel Choi, Il Chan Chun, Heather Grates, Crystal Kim, Kevin Lam, Esther Park, Jerod Rivera, Lamson To and Hyunsun Yoo—won the Spark Awards' highest honor, the Spark!, in the competition's Communications student category.
The Spark Design Awards are a series of competitions that encourage and honor designs that make the world a better place. First held in 2007, the awards are focused into four competitions per year. Spark:Communications is for Graphic, Package, Brand, UX and Interface, Apps, Motion and Environmental/signage design.
In the studio, led by Graphic Design faculty Gloria Kondrup, Ming Tai and La Mer Walker, the students created a powerful campaign that worked across multiple vehicles, including print, collateral, interactive and a motion design. Among the work that the students created for the project were the "We Are Youth" slogan and its accompanying logo, a custom font, a website and a one-minute animated video that addressed the key points of the campaign—gender equality, child marriage and reproductive health.
"This is profound work that you are doing," Art Center President Lorne Buchman told the class during its final presentation to UNFPA officials at the end of the Spring Term. "This education you're getting is about developing skills and your own creative capacities, but your understanding of its force and potential to make the world a better place takes it to the next level."
Prateek Awasthi of the UNFPA's Adolescent and Youth Program agreed. "I hope that as designers you realize the power you have in being able to convey messages and that you will continue to carry on these issues and use your skills to make the world a better place," Awasthi told the students at the conclusion of their presentation. "You've already gotten off to a fantastic start."
For more information on "We Are Youth," visit the project's page.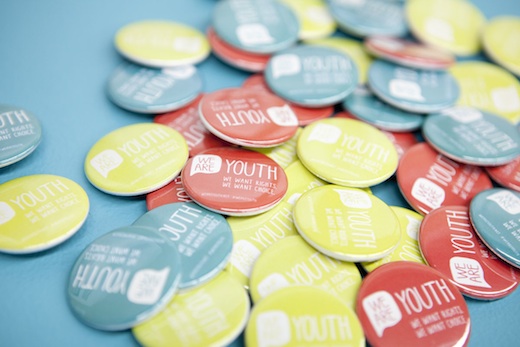 Related:
Goodwill and Art Center embrace the upcycle lifestyle
Graphic Design student wins Adobe Design Achievement Award
Designer Simon Johnston on Factory Records, Q-Tips, lawyers, self-destructing magazines