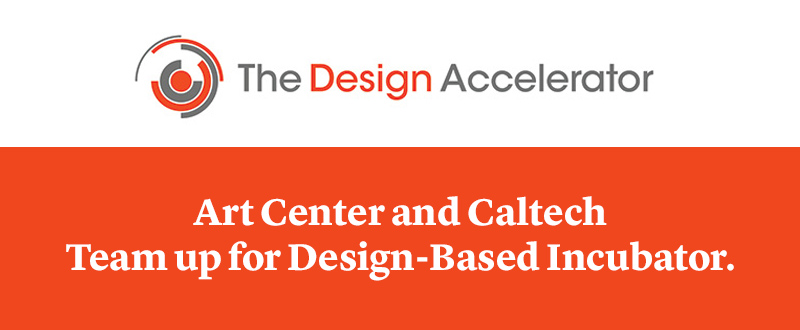 Art Center  and Caltech today announced the launch of The Design Accelerator, an incubator aimed at helping startups grow by merging great design, cutting-edge technology and business strategy to create innovation. The Accelerator initially will be housed within Idealab, which is well known for creating and operating pioneering companies in its own right.
"In today's economy, artists and designers play a vital role as creative leaders and catalysts for innovation and change," said Art Center President Lorne M. Buchman. "Integrating technology, design and business, The Design Accelerator creates an opportunity for Art Center and Caltech alumni to expand on what they learned as students and provides a stimulating space for their concepts to become viable businesses."
The Accelerator is an integral part of Art Center's 2011–2016 Strategic Plan. Understanding students' concerns about employment prospects following graduation, The Accelerator fills a critical gap by giving students and alumni the opportunity to develop their concepts into sustainable and commercial ventures—a bridge between academic and professional life.
Fred Farina, Caltech's chief innovation officer, adds, "We know that making connections across different areas fuels innovation, and that's why we're excited about this collaboration. The combination of our complementary but very different perspectives in a startup team promises powerful results."
The Design Accelerator benefits from its prime location in Pasadena, Calif., which has become a hotbed of innovation and entrepreneurship with vibrant creative, technology and business communities, enriched by the presence of Art Center, Caltech, angel investors and venture capitalists.