Team Calientamigos™ had a very busy summer. The Designmatters team members Mariana Somma, Della Tosin and Safe Agua Assistant Instructor Stella Hernandez returned to Bogotá, Colombia, for another informative field research trip. Around the same time, Tianyi Sun and Kevin Chang visited Austin, Texas, to attend The Exchange, IDSA International Conference, and to accept a Gold Award for Calientamigos™. Commenting on the students' winning project, IDSA jury member Oscar Peña, global creative director for Philips Design Lighting, described it thus: "Authentic, inventive and playful solution to an everyday need. Good understanding of the value of doing daily rituals together."
The following three-part post was written by Mariana Somma (Grad ID student), Stella Hernandez (Environmental Design BS 11) and Kevin Chang (Product Design student), on behalf of the entire Safe Agua Colombia Calientamigos™ team.
MARIANA SOMMA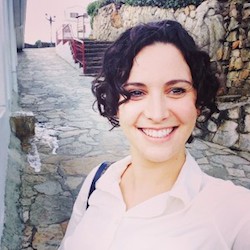 I recently had the privilege of joining the Calientamigos™ Team, which began through the Designmatters Safe Agua Colombia project. Through very tenacious last-minute efforts, I flew to Bogotá, Colombia, with teammate Della Tosin, with efforts to take with us five new Calientamigos BOMBA™ heater prototypes to the families living in the settlement of Altos del Pino (ADP), as well as check in on the first two rounds of prototypes left with the families over six months ago.  The experience was incredible, and meeting the families of ADP is one I will never forget. It was amazing to see the families using the Calientamigos™ system to heat water for bathing, cooking, cleaning, and even washing their family pets! For example, a family of 10 uses the BOMBA™ heater on a daily basis to heat bath water, saving them hours of time heating on a conventional stove, and with significant reduction in their gas bills.