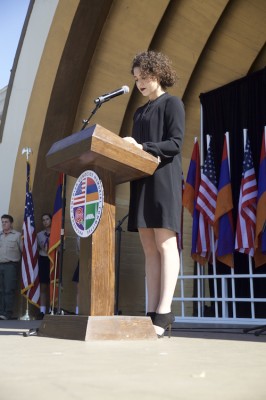 Saturday, April 18th, 2015, was a blistering hot day in Pasadena Memorial Park. But the day's speakers and many in the crowd wore black to the unveiling of the Pasadena Armenian Genocide Memorial, designed by alum Catherine Menard (MFA 14 Environmental Design), whose teardrop concept for the monument was chosen as the winner in 2014 competition, launched by the Pasadena Armenian Genocide Memorial Committee. We caught up with Menard on this momentous occasion to hear how she approached the weight of commemorating the estimated 1.5 million victims who died during a campaign against Armenians and other Christian minorities beginning in 1915, as well as how the experience has changed her.
How did you learn about the competition?
I was asked by Professor James Meraz to join a studio that he created through Designmatters for the specific purpose of designing memorials that we would then submit to the competition.